TITLE:  Quillon's Covert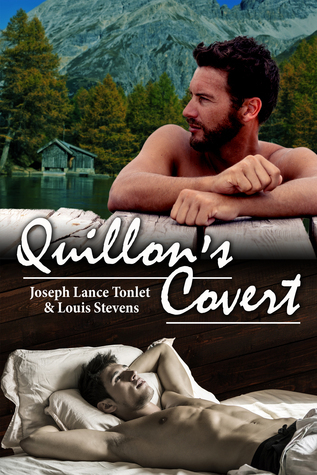 AUTHOR:   Joseph Lance Tonlet & Louis Stevens
PUBLISHER:   Self Published
LENGTH:   186 Pages
BLURB:
Martin is a guy's guy, one who enjoys the simple things in life: baseball games with his son, family days, barbecues, and date nights with his lovely wife.
Once a year for two weeks, Martin takes his son, Marty, to Quillon's Covert, a rustic family cabin secluded in the beautiful California mountains. Since before those long days of learning to play ball, Marty has loved his dad, but as Marty matures, Martin starts to see something else settle in his son's uncertain gaze. What's there lingers a little more than it should, and it seems far more appraising than it once was.
As Marty shows every sign of taking the lead, Martin is faced with the tough choices most parents never see: lose his son by being a father, or try to balance what's best for their relationship by being something… more.
But with another trip to Quillon's Covert on the horizon, has the point of no return already begun?
Note: This book contains incest
Tags: GAY, EROTICA, ROMANCE, TABOO, INCEST, INFIDELITY
REVIEW:
I made the mistake of starting this book when I had assignments due and deadlines to meet. Please don't make the same mistake! This book is totally and completely addictive! The whole world will be put on hold from the moment you start reading. So now that you've been warned, the next advisory is that this book contains erotic incest between father and son. I've read brother incest, but this was a first for me. The whole idea sounded a bit scary at first, but it really wasn't. It was hot, conceptual, and played out in a way that I didn't feel bad in any way about the father's role. I was able to accept their relationship at the same pace as the father accepted it. With that said, this book definitely isn't for everyone, but I highly recommend it to anyone who loves taboo m/m erotica that also happens to be sweet and sensual.
RATING: Crazy about it!
DARK ARTS CATEGORIES:
**Banned Books**, Barely Legal, Incest, Kink, Taboo, Underage
BUYING LINKS: