TITLE: Sunset Park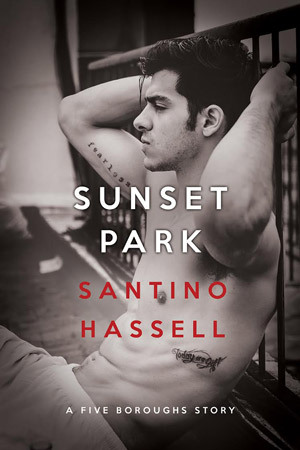 SERIES:  Five Boroughs #2
AUTHOR:  Santino Hassell
PUBLISHER:  Dreamspinner Press
LENGTH: 230 Pages
BLURB:
Raymond Rodriguez's days of shoving responsibility to the wayside are over. His older brother wants to live with his boyfriend, so Raymond has to get his act together and find a place of his own. But when out-and-proud David Butler offers to be his roommate, Raymond agrees for reasons other than needing a place to crash.
David is Raymond's opposite in almost every way—he's Connecticut prim and proper while Raymond is a sarcastic longshoreman from Queens—but their friendship is solid. Their closeness surprises everyone as does their not-so-playful flirtation, since Raymond has always kept his bicurious side a secret.
Once they're under the same roof, flirting turns physical, and soon their easy camaraderie is in danger of being lost to frustrating sexual tension and the stark cultural differences that set them apart. Now Raymond not only has to commit to his new independence—he has to commit to his feelings for David or risk losing him for good.
RATING: Absolutely loved it!
DARK ARTS CATEGORIES: 
BUY LINKS: 
ABOUT THE AUTHOR
Santino Hassell was raised by a conservative family, but he was anything but traditional. He grew up to be a smart-mouthed, school cutting grunge kid, then a transient twenty-something, and eventually transformed into an unlikely romance author.
Santino writes queer romance that is heavily influenced by the gritty, urban landscape of New York City, his belief that human relationships are complex and flawed, and his own life experiences.
To learn more about Santino you can follow him on:
Amazon: https://www.amazon.com/author/santino…
Twitter: @santinohassell
Facebook: theonlysonnyhassell | santinohassellbooks
Instagram: santinohassell
Newsletter:http://santinohassell.com/newsletter/
And at his official website: http://bit.ly/16sgcSu