TITLE:      Without a Net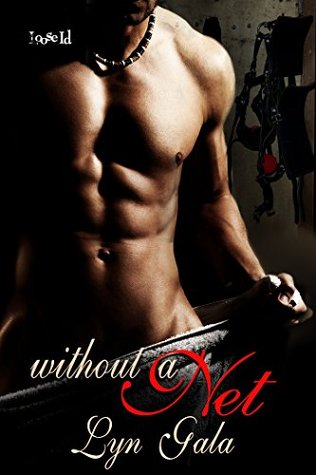 AUTHOR:     Lyn Gala
PUBLISHER:     Loose ID LLC
LENGTH:     366 Pages
BLURB:
Oliver Robertson has been assigned to go undercover in one of the shade clubs that litter the seedier parts of town. He has never engaged in the sort of edge play found in those places, preferring the BDSM in the more mainstream control clubs. However, to find the criminals behind a series of kidnappings, he must go in undercover as a shade sub. The mission becomes more complicated when his captain asks him to collect evidence against a lieutenant who might be a dirty cop.
The case quickly gets out of hand, and Ollie finds himself caught between wanting to do his job and not knowing who to trust. That confusion grows worse when a number of sexy and dominant men challenge his assumption that he prefers safe, contractually negotiated sex. It turns out he has more of a wild side than he expected, and given that he's surrounded by dangerous men, and he can't distinguish the good guys from the bad, that's terrifying.
When Ollie gives his trust to Travis Goode, a dominant who appears to be a federal agent, he might be making the connection of a lifetime or dooming himself forever.
RATING: I liked it 🙂
DARK ARTS ELEMENTS:
Abuse, BDSM, Body Modifications, Brain Washing, Captive, Dark M/M Romance, Dub-con, Humiliation, Kidnapping, M/M Dark Erotica, M/M Erotica, Non-consensual BDSM, POV of Victim, Psychological Trauma, Rough Sex, Sex Trafficking, Sexual Exhibitionism
BUYING LINKS: