TITLE: Ravel: A Ripples in the Status Quo Story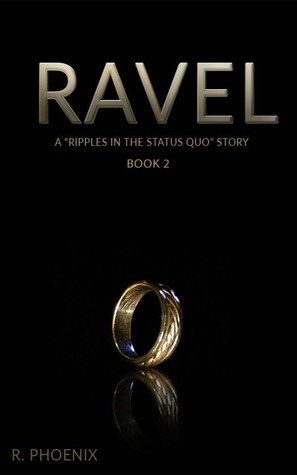 SERIES:  Ripples in the Status Quo #2
AUTHOR:  R. Phoenix
PUBLISHER: Phoenix Publications
LENGTH: 81 Pages
BLURB:
Revised & expanded edition as of 3/22/16. Please note that content, publisher, and other aspects of the work have changed.
For the past few years, Reese has hidden away in his home, refusing to venture out where he might have to face what reminds him of all that he's lost. When Ashton, a human thief, breaks into his home one night, he doesn't have a choice but to face the harsh truths of the world he's turned his back on. He knows he supports the society monsters of myth and lore built upon the backs of humans through his silence, but the new leaders don't tolerate sympathizers.
If a werewolf can't act against the status quo without facing severe consequences, a human with Ashton's cunning and experience circumventing supernatural predators certainly can't risk drawing their attention. Their chance encounter leaves them both shaken and questioning whether they are living life as they were intended—or if surviving is really living at all.
Ravel is approximately 23,600 words (excluding front/back matter).
###
The Ripples in the Status Quo works are set within a world where supernatural beings seized control from humans and relegated them to the bottom of the food chain. Used for food, entertainment, and worse, nothing protects them from the hands of those who claim them as slaves. But not everyone adheres to the status quo the world at large has accepted…
Please note that the RISQ world has little place for humanity–and the author's idea of romance may not match yours. As such, there are no guarantees of happily ever afters, and content may be offensive to some readers.
The suggested reading order is below, though these works can be read as standalones.
1. Bought. [Dark Erotica]
2. Ravel. [Romance]
3. Recoil. [Dark Erotic Romance]
4. Owned. [Dark Erotic Romance. Follows events in Bought and Recoil.]
REVIEW:
Supernatural beings have taken over, and by virtue of being human, Ashton is forced to live in the slums where he has to steal for food. The book begins when Ashton goes into a supernatural neighborhood and enters a house with the intention of steeling something so he could get enough money to help his sick friend. However, before he can make it out of the house, he's caught by a werewolf named Reece. Ashton knows he's in grave danger, and though it's wrong, he cannot help but be drawn to the sexy werewolf. When Reece shows Ashton kindness instead of striking him down or enslaving him, Ashton is drawn to him even more. Though loving one another is breaking every law in their world where humans are lower than dirt, it doesn't stop them from falling into each other's arms.
This book was a fantastic shifter romance. I especially loved the torturous world they exist in. Everything has crumbled for humans—their rights are taken and many are forced into slavery. I like how Ashton's desperation feels so real, and how despite loosing everything, he still has not lost his will to fight. Even when faced with a being that could crush him, he is still courageous. He has the strength to realize he doesn't have to hate Reece due to what other supernaterals did to him and the human race. Ashton and Reece should be enemies with no compassion for one another, but Reece's kindness wins Ashton over. Overall, this book was dark, but also extremely moving and romantic. I recommend Ravel to anyone who loves dystopia, m/m romance, and m/m shifter fantasy.
RATING: I loved it!
DARK ARTS CATEGORIES: 
Dark M/M Fantasy, M/M Erotic Romance
BUY LINKS: