TITLE: Risk Aware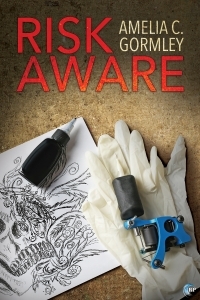 AUTHOR:  Amelia C. Gormley
PUBLISHER: Riptide Publishing
LENGTH: 323 Pages
BLURB:
Tattoo artist Geoff Gilchrest is convinced his life is some sort of cosmic joke. Why else would a hemophiliac also be a masochist? He's given himself more than one elbow bleed since puberty just doing what guys do when alone and bored, so forget about whips and chains. How many partners would contemplate playing with someone even a mild flogging could kill?
Gallery owner Robin Brady knows he can deliver what Geoff needs: to be taken to the edge of danger but never beyond. But Robin came to Saugatuck to get away from the leather scene and heal from a betrayal by his former sub, so he's not sure he should get involved with Geoff. His ambivalence isn't helped by the fact that Geoff's unwillingness to communicate about his well-being hits Robin in some very raw places.
Geoff's hemophilia isn't the obstacle he thinks it is. Instead, a lack of trust—on both their parts—is what could end them before they have a chance to begin.
REVIEW:
This was the first book I've read by Amelia C. Gormley, and I wasn't at all disappointed. Risk Aware begins when the hemophiliac, Geoff, who is also a masochist is at a leather club/resort dreaming of all the things he wants a dom to do to him. He knows all he can do is dream since any strike to his body will likely start internal bleeding that wouldn't stop and may lead to his death. However, Geoff grew up with his mother treating him like a china doll, and he wishes he could just let go and have the pain he craves. When Geoff meets Robin, his dreams appear to be coming true. He can trust Robin to touch him in the right ways, being just rough enough to alight his fantasies without putting him in danger of starting a bleed.
I have to admit that I approached this book with caution. I'm not a huge fan of needles and the sight of blood used to make me faint. So, reading a book about a masochistic hemophiliac had me cringing before I even read the first page. Despite my caution and reservations, I read this novel without crawling out of my skin. There were some scenes with needle play that I tried not to visualize too much, but other than that I was able to enjoy this book with a minimal amount of cringing. Though Geoff and Robin had to tone down what they were able to do in the bedroom, the scenes were all very hot. There was always the fear of Geoff braking somehow, and even though they had to be extremely careful, they did get a little rough at times which had me on edge. Overall, this novel was romantic, hot, and laced with plenty of danger. I can't say I've read a BDSM book before where the stakes were so high and each scene could be a matter of life or death. I recommend Risk Aware to anyone who enjoys BDSM, medical play, and m/m romance.
RATING: I loved it!
DARK ARTS CATEGORIES: 
BDSM, Kink, M/M Erotic Romance, M/M Erotica, Medical Play, Needle Play
BUY LINKS: