TITLE: Recoil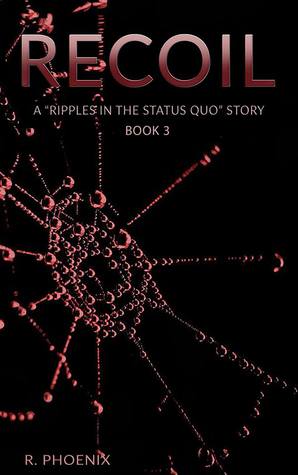 SERIES: Ripples in the Status Quo #3
AUTHOR: R. Phoenix
PUBLISHER: Self Published
LENGTH: 96 Pages
BLURB:
Over the past decade, Khaz has watched as supernatural creatures like himself have turned the world into their own personal playground. Unlike the others, he didn't benefit from the Takeover, and every time he sells himself to keep a roof over his head, he's keenly aware of that fact. His landlord, a renowned slaver, offers him the chance to catch up on his rent by breaking a human.
Groomed to fight, Noah has survived by giving himself over to his hatred of those who took everything away from humanity. When the werewolf can't break him, he's given to the vampire instead-and he's sure this will be no different. The problem is that even the harsh lessons the Rebellion taught him couldn't prepare him for someone like Khaz…who always has an ace up his sleeve.
Revised & expanded edition as of 4/1/16. Please note that content, publisher, and other aspects of the work have changed.
Recoil is approximately 28,300 words (excluding front/back matter).
###
Please note that the RISQ world has little place for humanity, and as a result, content in these works may be offensive to some readers.
REVIEW:
Beautiful and tragic. The world is the same as in the first part of the series, but this time the characters are Khaz, a vampire who trains human slaves, and Noah, a human who has been captured and must be prepared for his new role serving supernaturals. ThoughKhaz has trained many humans before, Noah is a fighter who is far from being submissive and Khaz tires of breaking humans, especially when he finds the fight in Noah so attractive. Khaz dreams of being able to keep the human instead of breaking his will for his supernatural masters; however, Khaz can barely afford his rent, let alone paying to house a human.

I loved this dark romantic fantasy. When Khaz and Noah come together its like magic. Khaz has the power to make any human addicted to him, but the attraction between the two is enough that he doesn't need to use his powers. Khaz is given full control over the human and has every right to do whatever he wants to him, but the fact is that Khaz's conscience won't let him do it makes him very likable. Though this romance was quite dark, I want to have hope for them. I look forward to reading the upcoming installments in this series, and I'm going to keep my fingers crossed that I'll see Noah and Khaz again. I recommend this book to anyone who loves m/m dark romance and m/m vampire fantasy.
DARK ARTS CATEGORIES:
Biting, Captive, Dark M/M Fantasy, Enemies to Lovers, M/M Erotica, Slave
BUYING LINKS: